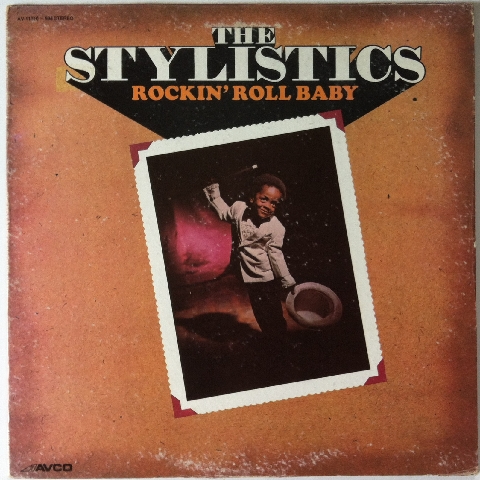 グループ最大のヒットを記録し、数多のアーティストによってカバー&サンプリングされた「You Make Me Feel Brand New」を収録した73年発表3rdアルバム「ロックン・ロール・ベイビー」
プロデュースは勿論トム・ベルで、リンダ・クリードとペアで楽曲提供もしています。てことで、A1は
Black Panther feat. Pumpkinhead「Suicide」('03)
, A3は
J.U.I.C.E.「Feel My City」('03)
, A5は
Nate Dogg feat. Daz Dillinger「These Days」('03)
でそれぞれサンプリングされています(その他は下記参照)
The ‎Stylistics – Rockin' Roll Baby 1973 Avco
A1.
Only For The Children
A2.
Could This Be The End
A3. Let Them Work It Out
A4.
Make It Last
A5.
Pay Back Is A Dog
B1.
Love Comes Easy
B2.
There's No Reason
B3.
Rockin' Roll Baby
B4.
You Make Me Feel Brand New
B5.
I Won't Give You Up
Personnel are;
Alto Saxophone, Flute – Jack Faith
Art Direction – Sid Maurer
Backing Vocals – Barbara Ingram, Carla Benson, Evette Benton,
Linda Creed
Bass – Ron Baker
Design [Album] – Michael Mendel
Drums – Earl Young
Engineer – Don Murray, Joe Tarsia
French Horn – Joseph De Angelis, Milton Fipps
Guitar – Bobby Eli, Norman Harris
Harp – Walter File
Percussion – Vince Montana
Photography By [Backliner] – Jeremiah Bean
Photography By [Cover] – Richard Marx
Producer, Arranged By, Conductor, Keyboards – Thom Bell
Strings – Don Renaldo & His Swinging Strings
Tenor Saxophone, Baritone Saxophone – John Davis
Timbales, Congas, Bongos – Larry Washington
Trombone [Bass] – Richard Genevese
Trombone [Tenor] – Freddy Joiner, Bobby Moore
Trumpet, Flugelhorn – Bobby Hartzell, Rocco Bene
Vocals – Airrion Love, Herb Murrell, James Dunn, James Smith,
Russell Thompkins Jr.
Written-By – Linda Creed, Thom Bell (A1, A3, A4, B1, B3, B4)
「You Make Me Feel Brand New」
サンプリング例
・
Band of Gold「Love Songs Are Back Again」('84)
・
Lil' Mo「Brand Nu」('03)
・
Sektion Kuchikäschtli ft. Gimma & Breitbild「Lösigsvorschläg」('04)
・
Yung Joc feat. Snoop Dogg & Rick Ross「Brand New」('07)
・
Mobb Deep feat. ACD「Block Life」('07)
・
Romeo「Can't Stop, Won't Stop」('09)
・
Lil' Keke「Brand New」('12)
・
Mystique「Brand New」('14)
「You Make Me Feel Brand New」
カバー例
・
The Jimmy Castor Bunch「You Make Me Feel Brand New」('74)
・
Inner Circle「You Make Me Feel Brand New」('74)
・
Wess & Dori Ghezzi「Entriamo Nel Gioco」('74)
・
Vicky Leandros「You Make Me Feel Brand New」('75)
・
Björn Skifs and Frida「Med Varann' (You Make Me Feel Brand New)」('75)
・
Hubert Laws「You Make Me Feel Brand New」('75)
・
The Salsoul Orchestra「You Make Me Feel Brand New」('82)
・Moe Koffman「You Make Me Feel Brand New」('82)
・
Boris Gardiner「You Make Me Feel Brand New」('86)
・
Babyface「You Make Me Feel Brand New」('86)
・
山下達郎「You Make Me Feel Brand New」('86)
・
Roberta Flack「You Make Me Feel Brand New」('91)
・
Regina Belle「You Make Me Feel Brand New」('95)
・
Jerald Daemyon「You Make Me Feel Brand New」('95)
・
J.C. Lodge and Stanrick「You Make Me Feel Brand New」('96)
・
Norman Brown「You Make Me Feel Brand New」('99)
・
No Question「You Make Me Feel Brand New」('00)
・
Simply Red「You Make Me Feel Brand New」('03)
・
Amy Adams「You Make Me Feel Brand New」('04)
・
Boyz II Men「You Make Me Feel Brand New」('04)
・Johnny Mathis feat. Yolanda Adams「You Make Me Feel Brand New」('08)
・
Jay-R「You Make Me Feel Brand New」('08)
・
Saranya「You Make Me Feel Brand New」('09)
・
Rod Stewart ft. Mary J. Blige「You Make Me Feel Brand New」('09)
「Could This Be the End」
サンプリング例
・S3[Lystics」('12)
・
Vanilla「The End」('12)
・
Christon Gray「The End」('12)
「Love Comes Easy」
カバー例
・
Eloise Laws「Love Comes Easy」('78)
・
Maysa「Love Comes Easy」('06)
- その他のスタイリスティックス作品 -
・
The ‎Stylistics「Round 2」('72 Avco)