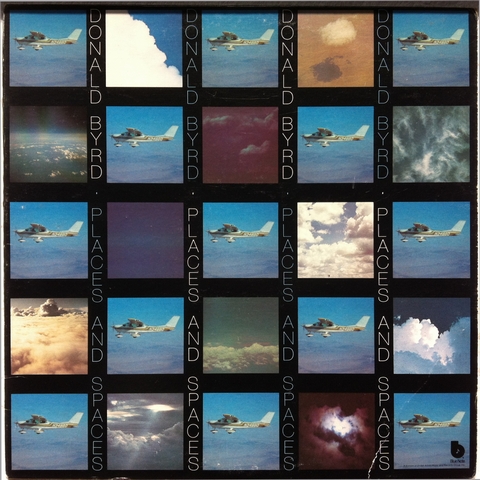 ACE WAX COLLECTORS
でございます。フォンスが亡くなってはや一月。
初月忌ということで、今一度この方のレコードを。本作は例によって
スカイハイ・プロダクション
による
当方と同い年
のアルバム「プレイシーズ・アンド・スペイシーズ」でございます。
70年代におけるバード作品群で最もポピュラーな一枚ではないでしょうか。
まず、初っ端A1は
HIP HOP
におけるバイブル、
Ultimate Breaks & Beats
(vol.15)に収録されておりますクラシックスでございまして、サンプリング例は他の曲も多いので全て下記参照で。てか、収録曲全部で何曲?ってくらいにサンプリングされている、
BLUE NOTE
はもちろん、
JAZZ
、レアグルーヴ史に名を刻む不朽の名盤と存じます。
Donald Byrd ‎– Places And Spaces 1975 Blue Note
A1.
Change (Makes You Want To Hustle)
A2.
Wind Parade
A3.
Dominoes
B1.
Places And Spaces
B2.
You And Music
B3.
Night Whistler
B4.
Just My Imagination
Credits;
Arranged By – Larry Mizell
Arranged By [Strings], Conductor – Wade Marcus
Art Direction – Bob Cato
Backing Vocals – Kay Haith, Larry Mizell & Fonce Mizell
Clavinet, Trumpet – Fonce Mizell
Congas – King Errison
Congas, Percussion – Mayuto Correa
Design – Ria Lewerke
Drums – Harvey Mason
Electric Bass [Fender] – Chuck Rainey
Electric Piano [Fender Rhodes] – Skip Scarborough
Engineer [Recording] – Jim Nipar, Steve Maslow, Val Garay
Engineer [Remix Assistant, Recording Assistant] – Jeff Hawks
Engineer [Remix] – David Hassinger
Guitar – Craig McMullen, John Rowin
Photography By [Clouds & Inside Photographs] – Doug Metzler
Piano [Acoustic] – Larry Mizell
Producer – Larry Mizell & Fonce Mizell
Tenor Saxophone – Tyree Glenn, Jr.
Trombone – George Bohannon
Trumpet – Raymond Brown
Trumpet, Flugelhorn, Vocals – Donald Byrd
Whistle – James Carter
「Changes」
サンプリング例
・
DJ Jazzy Jeff & The Fresh Prince「A Touch of Jazz」('87)
・
Seeque and DJ Soul Shock「Break the Limits」('88)
・
Art of Noise「Beat Box (Mixbuster Remix)」('89)
・
Boyz Wit Da Bass「How Do You Say Bass」('93)
・
Junior Jack「The Roots」('04)
・
Earl Jeffers and Kofi「Sure Thing」('16)
「Wind Parade」
サンプリング例
・
2Pac「Definition of a Thug Nigga」('93)
・
Chocolate「Life-N-A-Day」('93)
・
Black Moon「Buck Em Down」('93)
・
「Buck Em Down (Da Beatminerz Remix)」('94)
・
Organized Konfusion「Stray Bullet」('94)
・
2nd II None「Let's Get Higher」('93)
・
Jewell「It's Not Deep Enough」('94)
・
Jewell「It's Not Deep Enough」('94)
・
Mystikal feat. Black Menace「Out That Boot Camp Clicc」('95)
・Pizo feat. Pooh-Man and Money-B「Slangin That Yayo」('95)
・
Sat「Kidz」('02)
・
2Pac feat. DJ Quik & Outlawz「Late Night」('02)
・
Tha Dogg Pound「I Luv When U」('05)
・
O.C.「The Inventor」('06)
・
Bitman & Roban「Animal」('06)
・
KRS-One and Marley Marl「Over 30」('06)
・
2nd II None「Let's Get Higher」('07)
・
Curren$y「Mandatory」('08)
・
Juice Crew「The Symphony (DJ Jazzy Jeff Remix)」('09)
・
Kinky Movement「Windy Dayz」('09)
・Max B feat. Mak Mustard「Who We Are」('09)
・
Monica feat. Joe Scudda「So Gone (9th Wonder Remix)」('10)
・
David Harness & Chris Lum「A Mighty Wind」('11)
・
Amerigo Gazaway「Pharcyde of the Moon」('12)
・
The Alchemist「Bloodhounds」('15)
・
Wale「Thank God」('17)
「Dominoes」
サンプリング例
・
London Beats「London Beats Vol.1」('87)
・
Kay Gee the All feat. DJ Drew「When No One Cares」('87)
・
DJ Jazzy Jeff & The Fresh Prince「Brand New Funk」('88)
・
Stetsasonic「Talkin' All That Jazz(Dominoes Mix)」('88)
・
The Stop The Violence Movement「Self Destruction」('89)
・
S.A.M. Jam「Oo La La La」('90)
・
Grand Daddy I.U.「Dominos」('90)
・
Brothers of the Same Mind「Cool Drink」('91)
・
Ice Cube「I Wanna Kill Sam」('91)
・
Tevin Campbell「Strawberry Letter 23 (QD III Mix)」('91)
・
A.L.T.「Deez Nutz」('93)
・
Kid Rock「Back From the Dead」('93)
・
Snoop Dogg feat. Kurupt, Daz Dillinger & The Dramatics「Doggy Dogg World (Perfecto Mix)」('94)
・Carleen Anderson「True Spirit (Domino Mix)」('94)
・
Stevie Wonder and Wyclef Jean「Mastablasta '98」('98)
・
Tony Touch「Royce the 5'9"」('00)
・
Goldie Lookin Chain「Shit to Me」('03)
・
DJ Shadow「Brittle but Magic」('12)
・
Telan Devik「Pretty Baby」('16)
「Places And Spaces」
サンプリング例
・
DJ Jazzy Jeff & The Fresh Prince「A Touch of Jazz (Collapsed in the Street Mix)」('87)
・
Cookie Crew「Places and Spaces For Your Mind」('89)
・
Les Little feat. King Daddy Yod「Je Ne Vois Que Moi」('92)
・
US3「Cantaloop (Flip Fantasia)」('93)
・
Bloods & Crips「K's Up」('93)
・
Pete Rock & C.L. Smooth「All the Places」('94)
・
Smooth「Love Groove (Groove With You)」('95)
・Wildchild feat. Oh No「Heartbeat」('03)
「You And Music」
サンプリング例
・Lightheaded「Blink of an Eye」('02)
・
Lightheaded「Never Square」('03)
・
Lanu「Dis-Information」('07)
・
Baritone Tiplove「Da Money Song」('16)
「Night Whistler」
サンプリング例
・
Black Moon「Murder MC's」('94)
・
Destiny's Child「Free」('04)
・
R De Rumba feat. Zatu「Sabado Noche」('04)
・
Total Drama feat. Consciência Humana「O Chicote Estrala」('09)
「Just My Imagination」
サンプリング例
・
Mad Flava「Can't Get Enuff」('97)
・
9th Wonder「Fakin' Jax」('03)
- その他のドナルド・バード作品 -
・
Donald Byrd Band & Voices「A New Perspective」('64 Blue Note)
・
Donald Byrd「Electric Byrd」('70 Blue Note)
・
Donald Byrd「Blackbyrd」('73 Blue Note)
・
Donald Byrd「Stepping Into Tomorrow」('75 Blue Note)
・
Donald Byrd「Donald Byrd's Best」('76 Blue Note)
・
Donald Byrd & 125th Street, N.Y.C. ‎– Sexy Dancer / Midnight ('79 Elektra)
Price:
SORRY, SOLD OUT!