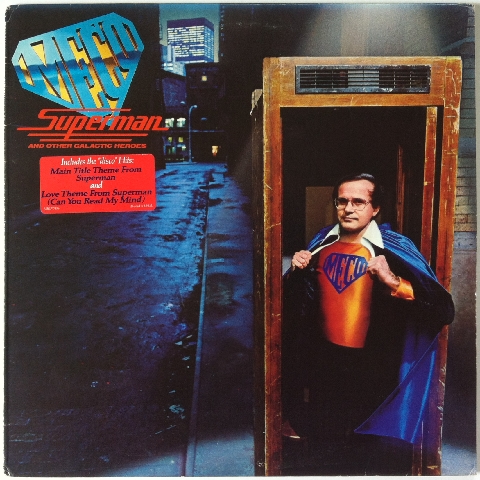 当SHOPの隠れ?人気アーティスト、
ミーコ
の通算4枚目。稼がせてもらったミレニアムからカサブランカへ、飛躍の移籍第一弾となる79年リリース作!
「スター・ウォーズ」
をやったら次に白羽の矢が立つのが「スーパーマン」
てことで、A面はご想像通りのデスコ・サウンドが展開されるわけですが、油断ならない本作の聴きどころが「アザー・ギャラクティック・ヒーローズ」サイドのB面。収録の4曲が何インスパイアで書かれた曲なのかは当方にはわかりかねますが、各曲ミーコ特有のマーチング・ドラムを搭載したグッド・ナンバーで、個人的に白眉に挙げたいのはタイトルどおり良い意味で期待を裏切るラスト。この一発だけでも買い!
Meco ‎– Superman And Other Galactic Heroes
1979 Casablanca
THEME'S FROM THE SUPERMAN
A1.
Main Title Theme
A2. The Destruction Of Krypton
A3. The Trip To Earth
A4. Growing Up
A5. Fortress Of Solitude
A6. March Of The Villains
A7. The Flying Sequence
A8. Can You Read My Mind?
A9. Chasing Rockets
A10. Turning Back The World
A11. End Title Theme
A12. Reprise: Love Theme From Superman
OTHER GALACTIC HEROES
B1. The Boy Wonder
B2. The Caped Crusader
B3.
Lord Of The Jungle
B4. The Amazing Amazon ※インスタで試聴できます(#acewaxcollectors)
Credits;
Arranged By – Harold Wheeler
Art Direction – Phyllis Chotin
Autoharp [Auto-Harp] – Gene Bianco, Laup Ekliss
Bass – F. Centeno, Neil Jason, Retsim Steab
Cello – Het Mogen, Jesse Levy, Mijmy Nernie, Ralry Leicher
Drums – Allan Schwartzberg, Gerald Jackson, Jimmy Young,
Pete Jackson, Rafael Charres, Ralph Rolle, Rickey Mangum,
Yhtac Xaurt
Engineer – Bill Sheniman, Bob Clearmountain, Don Berman,
Neil Dorfsman, Scott Litt
French Horn – Fred Griffin, Jim Buffington, John Clark,
Mali Nyl, Peter Gordon, Raula Lujei
Graphics – Ed Beckett
Guitar – Atten Lessik, Bobby Mann, Cliff Morris, Lance Quinn, Inirt Zepol
Keyboards – Harold Wheeler, Ynot Odranom, Pat Rebilliot
Mastered By – Greg Calbi
Percussion – Butchie, Dave Carey, Nyto Bongo,
Retsim Ocem, Ynned Silsek
Photography By – Chris Callis
Producer – Harold Wheeler, Meco Monardo, Tony Bongiovi
Reeds – Dave Tifani, Eddie Daniels, George Marge, Phil Bodner
Synthesizer [Moog] – Richard Trifan
Trombone – Eddie Bert, Lekly Roomdan, Paul Faulise,
Retsim Meco, Sonny Russo, Tom Malone, Wayne Andre
Trumpet – Dan Cahn, Joe Shepley, Jon Faddis,
Barb Donmora, Derf Nardomo, Randy Brecker, Bob Millikan
Viola – Odew Royam, Richard Maximoff, Ted Israel
Violin – Dave Davis, David Nadien, Elliot Rosoff, Guy Lumia,
Harry C., Harry Lookofsky, Irving Spice, John Pintavelli,
Kemie Ceedu, Leanie Kranf, Lou Eley, Mij EuQnic, Nala Lebos,
Paul Winter, Simm Amorni, Thatie Notswin, Tomen Risorm
Vocals – Diva Gray, Ellen Bernfield, Lani Groves
Vocals [Lois Lane] – Janet Burnham
Written-By – John Williams
- その他のミーコ作品 -
・
Meco 「Star Wars And Other Galactic Funk」('77)
・
Meco 「Moondancer」('79)
・
Meco 「Swingtime's Greatest Hits」('82)
Price:
1200yen
 レコードのご注文及び詳細は
こちら